What are Responsive Display Ads (RDAs)?
Responsive Display Ads are one of Google's Smart Creative solutions. Similar to Responsive Search Ads, RDAs let advertisers upload assets (headlines, descriptions, images, logos), which Google will rotate and optimize based on expected performance. As of 2018, Responsive Display Ads are the default ad format for Display campaigns in Google Ads.
Benefits of Responsive Display Ads
Let's pretend we're launching a Display campaign in the year 2015. You clarify goals, budget, and audience targeting, then reach out to your creative team or agency to produce assets. We do the all-so-familiar Google search for "display ad sizes" and see something like this: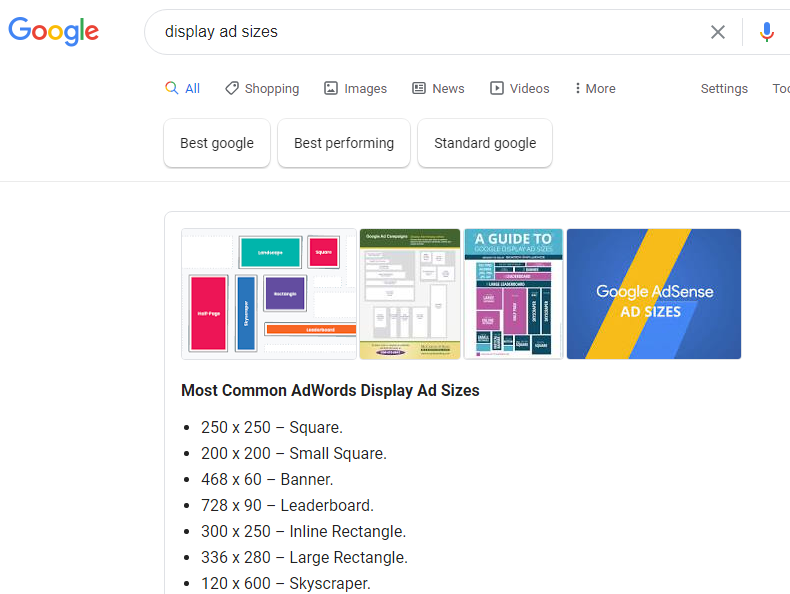 We share whichever article or infographic is ranking first with the design team, then dust off our hands -- job done. Meanwhile, your designer sips their coffee and gets to work creating 20 to 30 unique display assets.
❌ Can you spot the issues with this process? If you said the words time, scalability, flexibility, or testing, you're absolutely right.
With Responsive Display Ads, advertisers and creative teams both benefit from the following:
✔️ Time Savings: Instead of creating several ads for each size and CTA, you can use a handful of landscape and square images, which Google will automatically resize based on the inventory slot. No more arguing with your design team on the incremental value of creating 10 versions of a 180x150 small rectangle image.
✔️ Scalability & Reach: RDAs allow you to match to more inventory, as ads are responsive and flexible. Google automatically adjusts your image and copy to fit into almost any size.
✔️ Machine Learning: Just like RSAs, RDAs leverage Google's machine learning to show the right images and text to the right user, at the right time. As much as we enjoy analyzing which CTA or image drives the most engagement or conversions, Google can do it better. If you throw Smart Bidding into the mix, you're looking at a pretty powerful Display campaign.
In addition to these benefits, Google also claims that RDAs drive +50% more conversions when used with standard Display ads.
Relishing in the time savings stemming from RDAs? Invest that time into standard display ad design with our UX checklist!
How to set up Responsive Display Ads
Google Ads UI
If you're running a Display campaign, click into the Ads tab and click the + sign: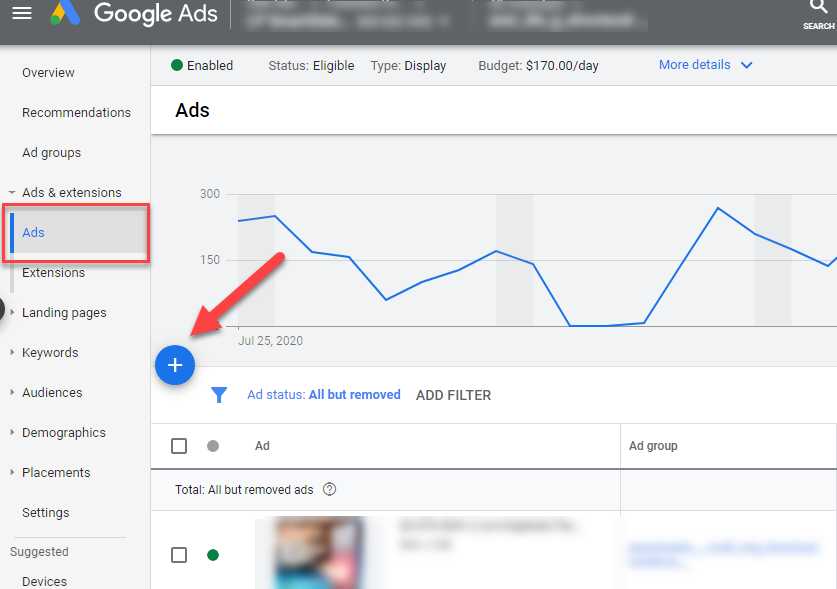 Once you're there, you can add images, headlines, and descriptions to your Responsive Display Ad and view previews based on the inventory type or size: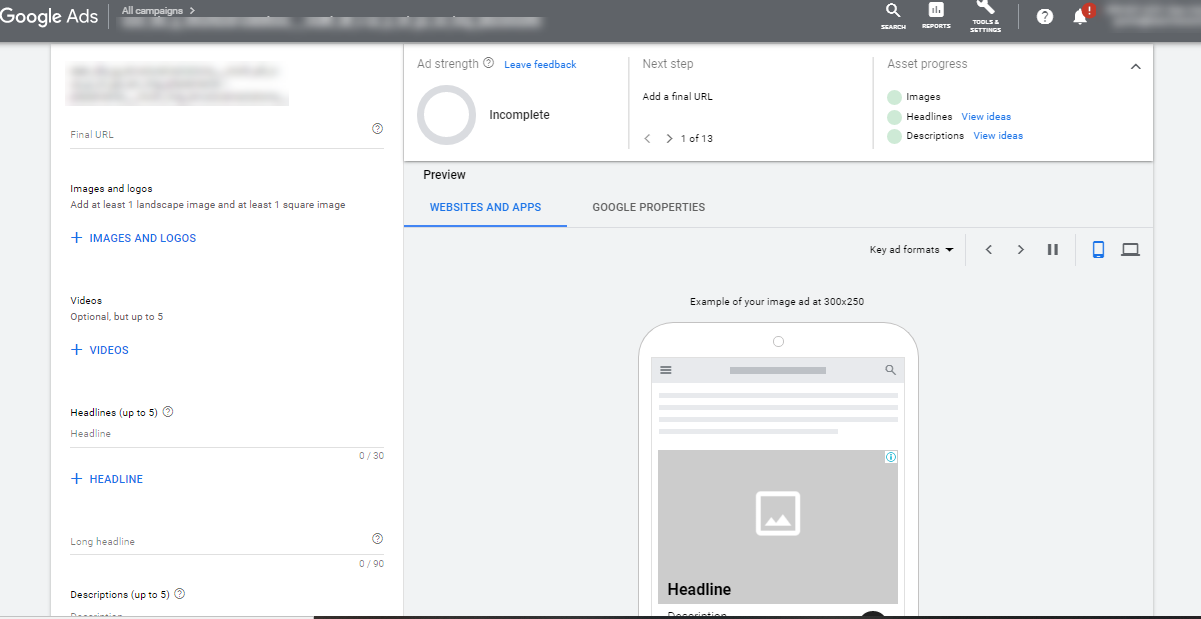 Keep an eye on the Ad Strength circle at the top -- just like RSAs, a full circle indicates that you've provided Google with enough assets with which to optimize.
In terms of image sizes, 1200x1200 is best for square (1:1) images and 1200x628 is best for landscape (1:9:1) images.
The Do's & Don'ts of RDAs
Do:
Use a strong call to action (CTA)
Ensure the product or service is the focus of the images
Use compelling headlines with key differentiators and value props
Include at least 5 images and a logo
Leverage Smart Bidding in your campaign depending on your goals
Don't:
Use heavy text, animations, or buttons in the images
Ignore standard Google policies
Use similar descriptions and headlines
Measuring Responsive Display Ads performance
Asset performance
Once you launch your Responsive Display Ads, you can view asset performance: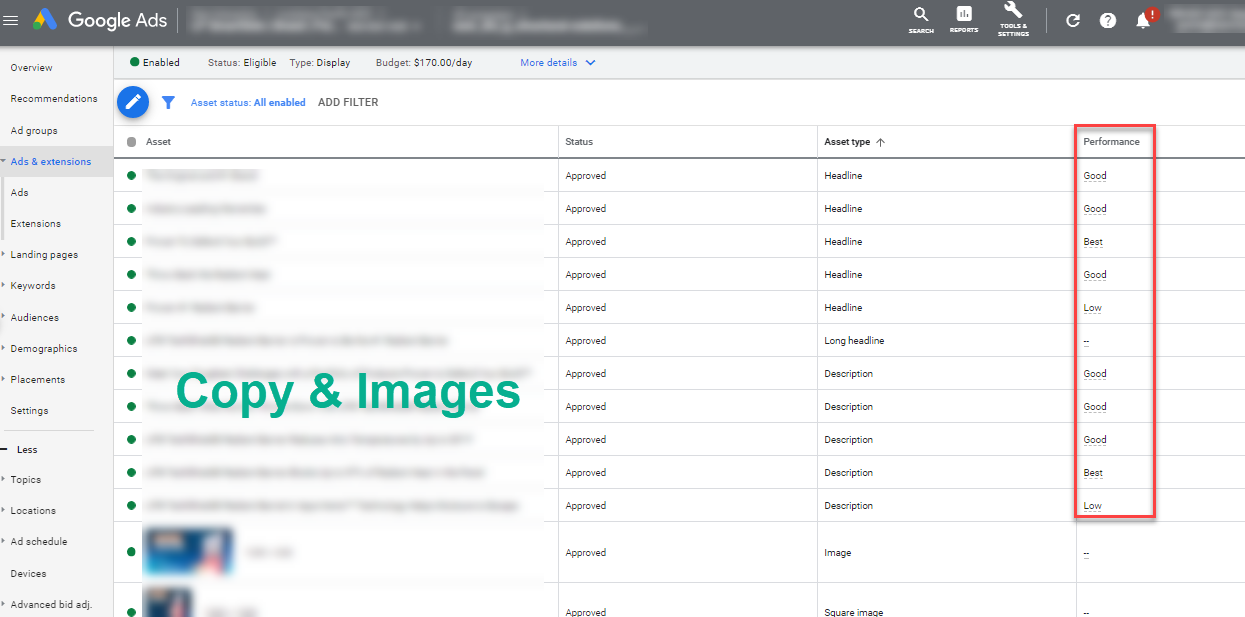 Google will grade headlines, descriptions, and images as Good, Best, or Low based on historical data.
Swap lower-performing assets with new variations to improve RDA performance.
Incrementality
In addition to asset performance, you can also measure incremental traffic and conversion driven by RDAs. Try viewing data period over period, or creating an experiment to see the benefits of RDAs. for one of our clients, we saw the following results when adding RDAs to an existing Display campaign that was only using standard display ads:

Leveraging Smart Bidding with Responsive Display Ads
Pairing Smart Creatives (Responsive Search and Display Ads) with Smart Bidding allows for user-level bidding and creative optimization, which is a powerful combo. When switching a campaign that was using both standard and responsive display ads from manual to smart bidding, we saw the following results with no audience or creative changes:

Start Using Responsive Display Ads
Convinced by the performance improvements and time-savings stemming from RDAs? Hop on the automation train and get started.
Reach out to our PPC team if you need a hand, or drop a comment below if you've seen similar results with RDAs!
Sign up for our newsletter for more posts like this - delivered straight to your inbox!