If you run any sort of Facebook or Instagram campaigns at volume, you've probably noticed how well video content does. Whether the goal is driving landing page views or general brand awareness, videos tend to perform very well.
While this is great for agencies and companies with full-fledged creative departments, videos have typically been a pretty heavy lift for small business owners, or even medium-sized companies operating without a large creative department. (Did you know Seer has a kick-ass creative team?)
Facebook has heard your pleas and has come to your rescue.
Create video from single images
Facebook has added a new feature called the "Video Creation Kit" in Ads Manager that helps you create video ads from existing photo assets, text, and logos. This feature is free and able to be used across Facebook and Instagram ad campaigns.
How does it work?
The Video Creation Kit offers four customizable templates to choose from based on your campaign goals, whether it be a new product launch or telling a branded story. You can select a template to promote a single product, multiple products, or key features.
You can access the new templates directly within ads manager while setting up your campaign. Navigate towards media and video and select use templates. This feature is also available through your Facebook business page.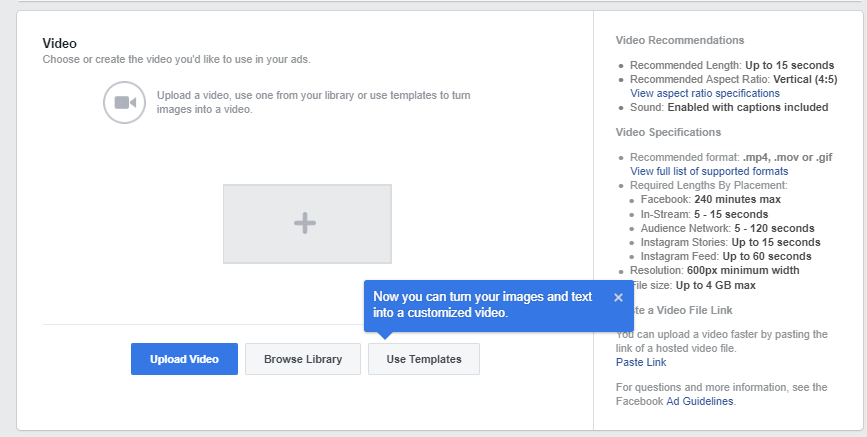 There are four templates available for users within the kit at this time:
Promote a product

What you'll need: 2-5 images

Video duration: 6 seconds

Drive product discovery

What you'll need: 1-6 Images

Video duration: 15 seconds

Sell multiple products

What you'll need: 4-7 images

Video duration: 6 seconds

Show product benefits

What you'll need: 5-10 images

Video duration: 15 seconds
It's important to note that each template is available in a square and vertical template. We highly recommend aligning the video format to your desired placement for best results!
Keep in mind that a majority of your traffic is likely seeing your ad on a mobile device, a placement where vertical video reigns supreme. If you're not sure, test it out!
Video uses
Despite how often our Facebook reps think video is already being used, I know from listening to clients and other marketers that there's still a large gap in actual video usage in ad campaigns. I have some quick suggestions on how you can change that:
Start incorporating video into campaigns you already know perform well. Duplicate an existing ad set and replace the existing creative with video. If you want to limit your spending, pause the other one and run the new video content for two weeks. See how it does! You may be surprised.

Test as a retargeting tactic. Need a way to push your audience further down the funnel? Try video!

Have you tested Instagram stories? Not yet? Try vertical videos!
When in doubt, test it out!
Is your mind not made up about video? We say test it out! With Facebook's new kit, it's easier now than ever to take images you already have and build out video content to test in multiple platforms, placements, and devices. Here at Seer, we're really excited to incorporate even more video into our testing strategies by leveraging our existing creative in new and interesting ways.
Interested in learning more about what Seer does with paid social? Check us out!