We live in an era where every day brings technological innovations and impacts the way we live our lives. With that understanding as marketers in the digital age, it's hard not to fall down the rabbit hole of endless questions.
What's the best way to engage with our audience? How do we get them to convert? How do we optimize? Then, how do we measure this data? At Seer's latest event "Connect, Convert, and Quantify," we gathered three of the digital marketing industry's top minds to help answer these very questions!
Our prestigious speakers sifted through the murky waters of PR, Analytics, and Conversion Rate Optimization (CRO), and offered lessons, best practices, and tools to help you navigate these areas with success. Below is a recap of our speakers' biggest takeaways to start incorporating into your campaigns today. As all proceeds from Seer's events are donated to the speaker's charity of choice, Seer also included links to the charity's pages and where you can learn more or donate.
Lexi Mills
Charity: GoFundMe to Support Justilien Gaspard, an SEO practitioner afflicted by Dengue Hemorrhagic Fever
Using PR to Build Your Brand & SEO Efforts For Lexi Mills, public relations powerhouse and Sr. VP Digital Strategy at Manyminds's North America division, one of the best parts of PR and SEO back in the day was the cats. Specifically, viral content involving cats. While that kind of content builds links, it doesn't do much in terms of longevity or building your brand. Viral cat videos are akin to a paper airplane, but in a rapidly changing industry, what you're really looking for in terms of content is a NASA-level rocket. And while we're not rocket scientists, we understand that launching them is a complex affair. In an ideal world, you want to keep the excitement, but minimize the chaos and make sure the launch goes off without a hitch. But how do we achieve this? Lexi compiled four pro-tips to consider while you plan and launch your PR strategies.
"When you start a project, you should agree on a sign off process," Lexi recommends.

Make sure all relevant parties are involved and then

sign off

with a physical signature on the sign off process-- be sure to avoid the email response of "yep" or "works for me". This way, expectations are clear and you don't kill motivation.

The way @leximills calls an elaborate pitch & publish plan "simple" and we all think "yeah, why the hell aren't we doing that?!" #seerccq

— Ryan Glass (@RyanGPhx) August 11, 2016

In light of a changing publishing world, it's essential to think of the publisher as well as the journalist.

Publishing offices often operate on a global scale, which allows you to promote your content all day, everyday. This also offers a second chance to call another regional office if your initial call didn't land so well. Keep in mind that these publishing teams are also split into sectors (think 'Tech' or a personal favorite: 'Bizarre News'). This means that one content placement for one publication could turn into several across its syndications.

As for journalists, be sure to approach your relationship with integrity.

Gone are the days of using a fake profile to test what works better (man, woman, brunette, blonde, you get it)-- you should be building relationships with journalists.

To start a positive rapport with journalists, start doin' your research and asking the right questions. Lucky for us, Lexi provided a nifty 12 tip checklist on when to call a journalist.Below are three of our favorites

Are they at least 60% perfect for the story?

Does your pitch provide enough for a journalist to write this? (Images, quotes, etc.)?

Get a photo of them up--- it helps you speak to them like a human.

Treat them (journalists) like a human. Never lose sight that your job is really B2Human. @leximills #seerccq

— SEMrush (@semrush) August 11, 2016

Lastly, Lexi recommends crafting content using the storytelling methods of Aesop's Fables (remember

The Tortoise and the Hare

?). In other words, you should be crafting stories based around concepts people can understand, no matter how complex the subject.

Also, be sure to analyze similar, relevant stories to get an idea of what publications are looking for, but don't simply copy competitors. Lexi's advice? Say what no one else is saying.
Sayf Sharif
Charity: Organization for Autism Research
VIEW SAYF'S PRESENTATION How to Optimize for Conversions by Properly Tracking Analytics Data Sayf Sharif, Seer's own Director of Analytics, gave our audience the rundown of the why's, what's and how's of optimizing conversions with Analytics. That is, after he shared a personal anecdote about why it's not a great idea to track your wife's contractions "then disagree with her assessment of labor progression by pointing at a chart you just made". The big takeaway here? Just because you can measure something, doesn't always mean you should. However, Sayf made it a point to outline several steps to take when conjuring conversions through Analytics wizardry. Your first quest? Emerge victorious over the beast that is "Direct Traffic".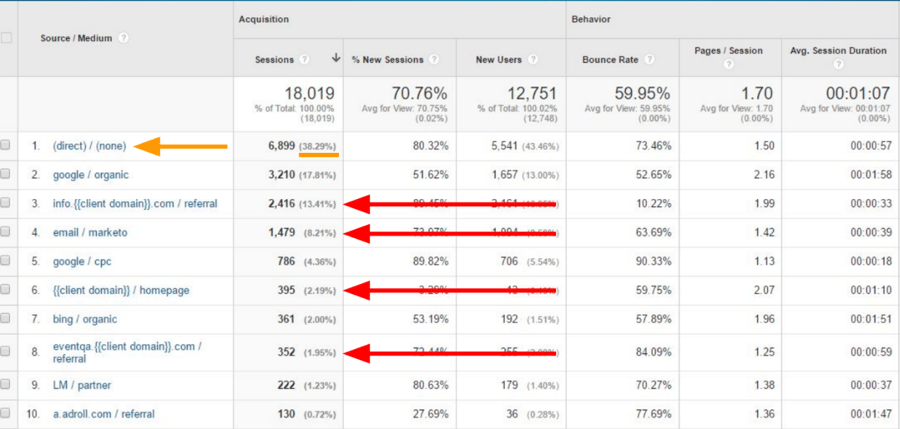 Direct traffic is defined as "URLs that people either type in directly or reach via their browser bookmarks". According to the image above, that means 6,000 people bookmarked that website. According to Sayf, the answer is that it's not only unlikely that all of those people bookmarked your website, but improbable. Direct traffic is like that shrug emoji ̄ \_(ツ)_/ ̄. It's not helpful, a little smug, and definitely frustrating.
"Direct traffic" is so much more complex than bookmarks! do you think 40% of your traffic bookmarked your site? @sayfsharif #seerccq

— Amanda (@McGswagg) August 11, 2016
Ready to slay the behemoth that is direct traffic? Below are five Sayf-certified methods to crank your Analytics game way, way up.
Use campaign tags.

Or as Sayf would say, "Tag All That Sh*t." This means, adding onto your URLs campaign source, medium, term, content, and campaign name. For example:

yourdomain.com/?

utm_source=jingle

&

utm_medium=radio

&

utm_campaign=radiojingles

This way, you know where your traffic is coming from, be it radio, billboards, or what have you! Need help naming your campaign tags,

check out tips here

.

Create new GA filters.

Start to categorize your dark traffic from homepage (i.e. shallow traffic, aptly named 'Shallow / Dark') to specific blog pages, team member pages, etc. (i.e. deep traffic, 'Deep / Dark').

Create new views.

Views are fielded views of your data. An example of this would be only from a subdomain, just organic traffic, or only traffic from Canada. The benefits of using views is for greater access, analysis, customization, and sampling for certain data sets.

Create user cohorts.

Cohorts are groups defined by shared experiences and events, and pose as a more effective way to approach people individually. You can use cohorts to identify, target, and analyze segments.

Use time-based cohorts in GA to see the effect of adding/removing tactics @sayfsharif #SeerCCQ #analytics

— Martin Weinberg (@MartinWeinberg) August 11, 2016

Track everything.

Did we say track everything already? Well, surprise, surprise. We're saying it again. And this time, we really mean it. Track everything.
Need more convincing why data is crucial to your marketing efforts - and business? Sayf shares why your data is an appreciable asset - and why you need to quit messing about!
Oli Gardner
Charity: Downtown Eastside Women's Centre
VIEW OLI'S PRESENTATION Using Conversion Rate Optimization (CRO) to transform traffic into conversions Oli Gardner has a talent of making the future, in all its machinations and i-Robot-esque imagery, seem like an interesting, smarter, more intuitive world than today. But before we started to chat about how the glass is clearly half full, Oli introduced four of most common (and very human) mistakes of CRO: testing opinions, not insights, testing the wrong things, stopping tests too early, and focusing on the surface level metrics versus lifetime value. "Machines will end this," Oli concludes. Before you get your human emotions all worked up, consider this scenario. While comfortably in bed, almost drifting off to sleep, you hear the familiar bzzt, bzzt of a new email on your phone.
"Click "Yes" to implement and improve your CTR." The CRO robot beeps. And of course, you click yes and CTR increases by 118%! It's a win-win. According to Oli, that's how the future will operate: optimizing while you sleep. But how does it work? Oli breaks down CRO as an equation with several parts that show you what to optimize and in what order to implement them; these parts include equations such as "The Form Equation" or "The Hero Shot Equation".
very interesting from @oligardner he seems to have quantified the nuance of how we visually communicate #seerCCQ #smmw17

— Joel Capperella (@JoelCapperella) August 11, 2016
After surveying our event's attendees, Oli focused on these three CRO equations below.
The Clarity Equation

- This is the most important aspect of the conversion equation. The Clarity Equation takes into account various factors you should consider about your landing page including:

Distraction

- Are there too many things happening on your landing page (LP)? By offering too many options, this confuses your user and forces them to ask, "What should I do?" Keep it simple and pick one thing for your LP to focus on.

Expectation

- Does your CTA describe the goal of the page and what users receive when they click?

Readability

- Is your page easy/fun/fast to read in terms of content, widgets and design? Note that rotating carousels are usually a no-go in terms of readability.

Visuality

- When viewed in isolation, do people know what the image on your page means and how it connects to your product?

Immediacy

- Can people understand your value prop in five seconds?

Hyperbole

- Are you explaining your product without any unnecessary embellishments? (Think, "Our Company Is The Absolute Best and #1 in __!")

Frustrated? Use a carousel and your customers will be too @oligardner #seerccq

— Becky (@BeckyShindell) August 11, 2016

The Social Proof Equation

- Similar to the Clarity Equation, the Social Proof equation considers if a customer testimony is readable, non-hyperbolic, authentic, relatable, branded, and most of all, transformational.

According to Oli, the success of testimonies and social proof

"lies in your ability to demonstrate the transformative effect of the user journey created by your product or service"

.

The Video Equation

- To create a standout, successful video, you should consider the placement, size, length, CTAs among other factors. From the Unbounce team's tests, Oli noted that the term 'Click' saw the best CTA for full screen videos versus a 'Click Here' CTA for annotations.

It's imperative to remember that

every conversion opportunity is unique and testing is pivotal to your video's success

.
Seer would like to give a warm thank you to all #SeerCCQ attendees and speakers who shared tips and tricks on how to make your customers convert! Interested in attending Seer's next event, Women at Work: Busting Myths and Taking Action? We bet you are. Learn more here!