Thought I'd do a little something for the newbies today! There is a (not so fine) line between spam and adding value. For so long people looked at Wikipedia and spammed it for link juice, thank GOD for no-follow or could you imagine what wikipedia would look like?
Inbound Marketers, SEO's whatever you want to call us are looking to drive relevant traffic, and Wikipedia can be a great source (no-follow or not) of that but also link value. Wikipedia is a top destination for research and I would imagine that as people find information there, a fraction of them end up having that research ends up on the web and in other trusted sources.
Remember guys one thing I am talking about is ADDING VALUE. There is a massive difference between spamming a forum and leaving a quality comment with a link. If you are unsure, this is spam that I zap on my forum all about Philadelphia.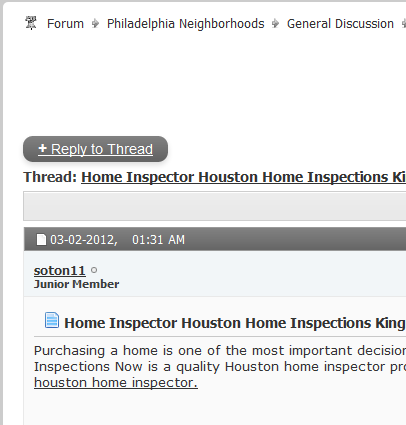 This is not:
With that definition lets move on to show you how this can work for you.
#1 reason why you should look at Wikipedia before developing "quality content" - if the Wikipedia page is actually quality, it will likely have some reference links. This gives you a rough idea on the types of assets that the editors let fly and stick.
So my research started on a page like this: http://en.wikipedia.org/wiki/Expatriate perfect, a decent page, that has some resources as the bottom:
As I scrolled through each of the resources above, I started to get an idea of the "right" type of content that would fit. Make sure you keep your Mozbar on, so you can see how many links these reosurces are getting on their own. Seeing that not too many had a ton of links, I thought this would be easier to add value as the resources there were not blockbuster by any chance. I did find one resource that has insane links: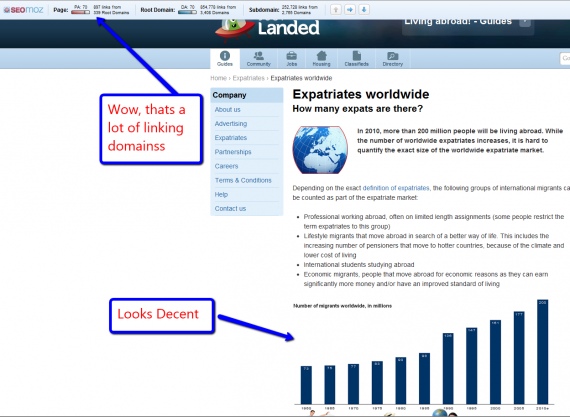 Uh oh - a crappy set of links indeedy - false positive - feel free to do your own look up in Majestic or SEOmoz to find the aggressive garbage here, but this post is not about why garbage like this works.
Use this as a way to get your boss/client an idea on how many links you may be able to get over time based on other resources there. That is the real exercise here is to try to get an idea on how many links I can expect to get over time.
So lets throw the spam idea out of our minds and dig into how you can use this for yourself.
Researching the opportunity
My first question was do people enter "informational style" queries?
I am looking for "what is" [keyword] style queries here - using ubersuggest . Sure enough I find a lot of "definition style queries" telling me I am in a research ripe niche.
You'll also notice that jobs and taxation are huge areas of research, yet in the Wikipedia page there is nothing about taxation in the references, can you say, resource RIPE opportunity?
When looking at the Wikipedia page, above also look at the dates of the resources, nothing newer than 2010, and even those are OK, but far from the definitive resource.
Getting the data
Now its time to go and run some searches to see if I can find some data to borrow and cite in my research, try a query like this (h/t @ethanlyon):

You'll end up with resources left and right, hint used the advanced search for .PDF and .XLS and you'll find even more (and don't forget searches in places like scribd.
For instance, I found a ton of data based resources: http://www.deloitte.com/assets/Dcom-UnitedStates/Local%20Assets/Documents/IMOs/Talent/us_talent_SmarterMoves_062410.pdf http://www.sibson.com/uploads/8eea71e1a139119d2b72dc08da1e8212.pdf http://jcu-sg.academia.edu/YvonneMcNulty/Papers/503011/Measuring_expatriate_return_on_investment_in_global_firms_industry_report_for_participating_firms http://www.shrm.org/about/foundation/research/Documents/Wanberg%20Exec%20Summary%206-11.pdf
Your work has already been done!! You just need to aggregate it, making the "pitch" a lot easier.
Now you should develop your asset and go submit to wikipedia, right? WRONG!
Just like any marketer, you need to develop a marketing plan, which I'll cover later in a second article as this piece is already getting long, but you'll need to scour twitter, twitter directories, blogger directories, and backlinks to other expat resources, looking who has linked to popular pages is a great call too (see below), and develop a mini-marketing plan for your asset.
Now before you do a thing, run a search on wikipedia and go find some way to add value to the other pages that have little content or outdated content.
you'll be given instant opportunities to add value.