Edited on February 4th, 2021 with updated data
This updated data looks at performance from 5/26/20 (the day we implemented the first round of this restructure) through 12/31/20 compared to the same period in 2019. Despite spending -5% less YoY, Search campaigns drove +309% more conversions at a -77% more efficient CPA. The below graph reflects the conversion and CPA improvements we saw throughout the structure's lifespan.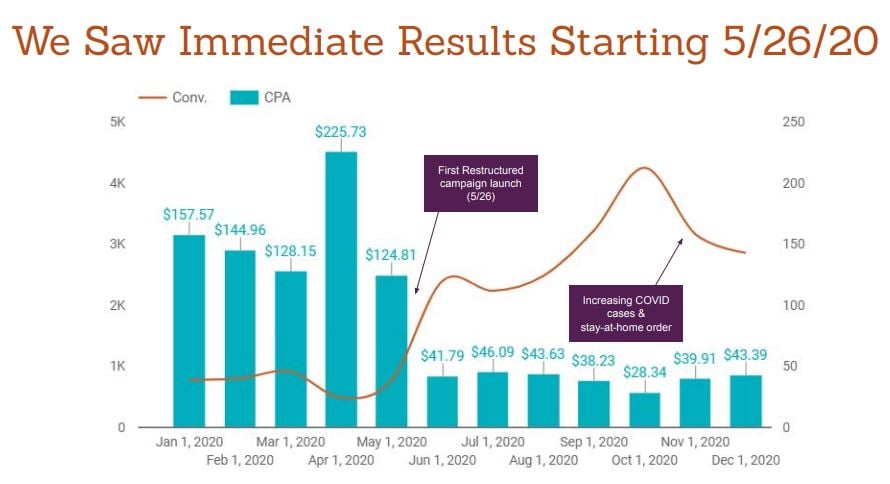 While attempting to diagnose why one of our most highly-valued clients with over 6 years of tenure was experiencing stagnation in performance over the last 6-12 months, it forced us to take a hard look at the account and realize that its fundamentals had become outdated.
The account had become overly-complex over the years, shifting between different strategies over that time, all while attempting to adapt to ever-changing PPC best practices.
The account was built on 6-year old best practices and strategies, and (although modified over the years to integrate newer best practices), that initial structure was no longer sufficient to support modern PPC strategies.
Specifically, the splintering of data for similar terms across multiple campaigns was impacting the ability for us and engine bid algorithms to effectively optimize.
We Rebuilt the Account from the Ground Up
Campaign by campaign, we tore everything down to the studs, rebuilding each campaign from the ground-up. Our restructure methodology was comprised of the following steps:
✔️ Audit each campaign to identify and remove keywords receiving fewer than 1k impressions in the last year
✔️ Remove any keywords that would be considered duplicates to the modern search engine algorithm
✔️ Re-work ad groups by consolidating match type segmented groups into mixed ones in order to feed the smart bidding algorithms a more holistic set of data
✔️ Evaluate historical landing pages to identify the most ideal pages for each ad group, regardless of previous directives
✔️ Evaluate current ad copy & re-write as needed to improve character usage and copy-to-landing-page relevance
✔️ Write & deploy Responsive Search Ads (RSAs) to all ad groups, as well as Dynamic Search Ad (DSA) ad groups to all campaigns
✔️ Evaluate & update all extensions as needed
✔️ Deploy the Maximize Conversions smart bidding strategy from the start as each restructured campaign launched
Simplifying the campaign structure is key
Previously, campaigns were duplicated based on geographic targeting, then duplicated again based on prospecting or RLSA audiences. This led to some keyword themes being duplicated across 12 or more campaigns in some cases, thousands of ad groups, and tens of thousands of keywords.
In the simplified restructure, we worked with the client to revisit the need to split out campaign geography, and consolidated to no more than 2 campaigns for any given keyword theme.
Findings & Impact
Across the 15 campaigns we've restructured and launched, we've seen performance improvement almost across the board in terms of conversion volume, CPA, and conversion rate. In aggregate...
Conversions increased +106%
CPA decreased -61%
Conversion Rate increased +133%
Don't Forget to Lean Into Automation
For this restructure, we leaned completely into automation features -- not only embracing smart bidding and dynamic features, but structuring our campaigns to best power the algorithms for optimization.
We continue to lean into automation by leveraging the recommendations provided as part of Google's Optimization Score metric on a weekly basis -- helping the system further optimize the algorithms that drive such positive performance.
Are you faced with the daunting task of modernizing your account structure? Not sure where to start to restructure your existing account? Get in touch!
Sign up for our newsletter for more posts like this - delivered straight to your inbox!