Key Takeaway: In a world where search companies are a dime a dozen, "unique selling propositions" aren't so unique. In this presentation, "Competitive Advantage in a Commoditized Industry", Heather Physioc discusses how to find, activate, and articulate your competitive advantage.
---
SEO isn't Dead
Marketers hear the phrase, "SEO is dead" more common than not-- when there's a Google algorithm update, when invaluable content is over-saturating the internet.
"SEO isn't dead, it's commoditized."
109 markers were polled and Heather found, 66% believe content marketing is commoditized, while 72% believe SEO is commoditized and 74% of paid search is commoditized.
This makes it hard to stand out.
Heather lays out the barriers to competitive advantage (to name a few) as: knowing what to own, customer perception, cultural challenges, and bandwidth.
This isn't just an issue for agencies but for brands, as well. Many fail at defining their companies true competitive advantage, companies don't live up to their claims in their mission statement or USP.
What is Competitive Advantage?
Taking a step back, Heather describes true competitive advantage as unique, distinct, valuable (comparison to product and value), sustainable, and consistent.
Ex. Ben & Jerry's is an activist brand that lives up to that promise at every interaction.
Heather layouts the competitive advantage framework as discover > differentiate > demonstrate > defend.
Identifying What Makes Your Unique
During the discovery phase tools you can use to find your competitive advantage are surveys, social listening (what common complaints for your team and competitors), and workshops (SWOT and Porter's 5 Forces Model).
Will your competitive advantage be a broad versatility vs deep specialty?
When trying to identify what you makes your company unique as yourself:
What are the core activities that make up your business?

Who are the people the brand was created to serve?

What do your potential customers or a specific segment of them, want or need?

What do your customers value?
💡 Pro tip: Leverage the "5 Whys" to get to the route of a competitors UCB (unique customer benefit).
Remember competitive advantage can take many forms, Heather provides a pattern to help you clearly articulate: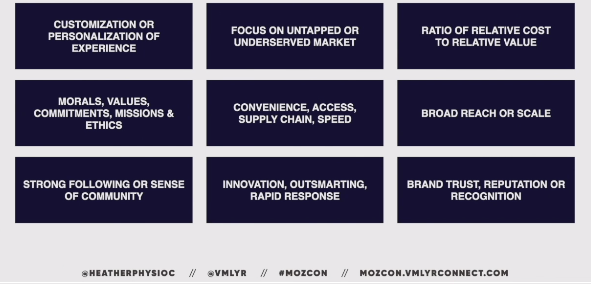 We [brand] [do/provide/create] [what the brand is exceptional at] so that [target audience] can [unique customer benefit] [better/faster/smarter/cheaper]..
Once you're able to clearly define your competitive advantage, live into that truth, remain consistent.
Heather shares a few questions to ask yourself to activate your competitive advantage (CA):
How does this affect existing ways of working?

What changes do you need to make to live it fully?

What are some things you

won't

do in support of your purpose?

What team members can you bring together from across functions to activate this competitive advantage?

How are you going to prove your commitment to the competitive advantage outside the organization with your customers?

What indicators can measure how you're putting your CA to work in action?
Remember: Always find new ways to defend your competitive advantage, whether that means adapting and evolving to survive: explore new markets, lines and features, strengthen benefits, reduce costs, merge or divest.
---
Sign-up for our newsletter to receive full access into our MozCon 2020 recap: