A company blog is a tactic, not a strategy. Without a purpose, your blog will not perform. Think about your blog as a keynote speaker. Why might it be invited to a party, a board meeting or a conference? Think about the value your blog brings to the table in terms of topical expertise and authority. Then, make sure that value is clear and consistent.
Defining the purpose of your company blog is simple when you understand the knowledge within your company and where it aligns with the needs of an online audience.
Your blog should be used as a vehicle to engage with your audience and provide value to a well defined online community, not a platform to talk about how wonderful your company is or what you think is "cool." You should start establishing a purpose by identifying topics on which your company can provide knowledge. From there, start listening to the conversations happening around those topics and know who is having those conversations. Figure out how your company can step in, respond to a need and help out. Your company blog is a means to that end.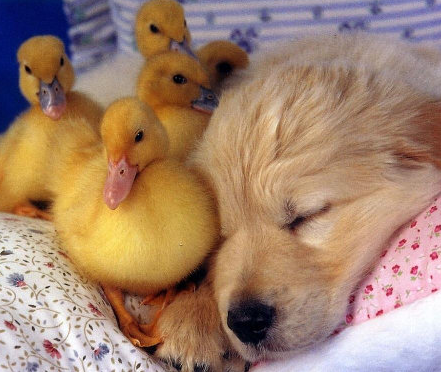 In this post, I will explain the reasons why every blog needs a purpose just like every puppy needs a duckling.
People gravitate towards content that helps them stay consistent and committed
One of my favorite authors, Robert B. Cialdini, talks about the power of consistency in his book Influence. He talks about how people genuinely value regularity in others and commit to it themselves. We see this concept manifest itself online when people look for steady online resources they can rely on, the same way they do consistent confidants.
People like to define themselves and then seek resources to help them stay constant and committed to that definition. One might define his or herself as a homemaker, a financially responsible young adult, or a coder. Understand how your audience defines themselves and be a consistent resource that helps them stay committed to their identity.
Earning trust with people makes them feel comfortable sharing your content
People are naturally inclined to want to help others because it makes us feel useful. Hitting the "share" button with confidence can be really empowering. People like to feel they are exercising consistency and helping their community at the same time. Once a company blog proves to be consistent both in context and in purpose, communities will adopt the trusted resource and feel comfortable sharing the content published.
This type of evangelism results in healthy and consistent activity which signals thought leadership to users and authority to search engines.
As your blog gains online citations and social buzz, Google will start to recognize your blog as an authoritative publisher and be more apt to serve your blog content to searchers.
Purpose will guide you during the keyword research process
Tools such as UberSuggest, Soovle, and Google Keyword Planner will help you to identify target keyword variations and the volume of those search queries. This can be immensely useful when prioritizing content and ensuring that the language you are using aligns with the keywords people use to search. However, these tools cannot solely define your company's content strategy or purpose for engagement.
First you'll want to listen to people in your target community, learn about their pain points, and think about how your expertise can help them. Once you understand what you want to talk about and why you want to talk about it, you can start to align your purpose and intent with high volume queries.
Focus will signal subject matter expertise to both users and search engines
Google's aim is to connect its searchers with the most relevant and appropriate content published by the most relevant and highly authoritative authors and publishers on that subject. Optimizing blog posts for search is not just about aligning content with popular search queries and trending topics. It is about owning topics by sharing consistent knowledge, expertise and opinion.
When your content is focused, users and search engines alike will understand the subject matter expertise of your authors and your company blog as an entity.
Providing guidelines to your authors will help them help you
Semantic search introduces new challenges for communication professionals who manage a company blog. As search becomes more conversational and focused on contextual relevancy and intent, less emphasis is placed on rudimentary keyword usage. Google understands that searchers are seeking information they can trust and relate to. Searchers turn to Google for well-researched, educational content written by thought leaders who can help them make important life decisions. Searchers are looking for posts that offer opinions and guidance. People can see right through a blog post that is composed of a bunch of random facts found using Google that are copied and pasted together.
Oh, and Google will see right through that strategy as well, when no one engages with your content.
This presents a challenge for blog managers who must solicit articles from busy specialists and professionals within their organization.The mistake a lot of blog managers make is providing a keyword to an expert writer (because it has search volume) and expecting them to write a blog post that will work for the blog and the audience. If a writer has a keyword with no context, it will be difficult for them to nail down a suitable topic. A blog manager must explain who the target audience is, why the audience is using a particular keyword, and what the purpose of the blog is.
If writers do not understand the who, why and what, there will be discrepancy between the content they deliver and the content you and your audience are looking for. This will cause frustration for all parties and make it a whole lot harder to solicit information from experts in the future. Not only can this result in a loss of trust between the blog manager and the writer, but it can also jeopardize the relationship between your company blog and the beloved audience who relies on it for consistent information.
Conclusion
Search in 2014 presents interesting opportunities and challenges for communication professionals managing a company blog. When launching a company blog or revamping an existing one, it's important to take your time and establish a purpose. By doing this you will help ensure that users and search engines understand the focus of your blog. It will also keep key contributors happy and on task when they are taking time to write for the blog.
Companies that can successfully engage with communities via their company blog and compel people to share content will come out on top, as search engines will recognize those entities as most relevant and authoritative and serve them to target audience members more frequently.
So I challenge you to ask yourself...
What is the purpose of my company blog?
Amazon Founder Jeff Bezos is famously quoted stating, "A brand is what people say about you when you're not in the room." This can be applied for your company blog too. Define what you want people to say about your blog when you're not there.
Your turn!
Are you engaging with the community in a consistent and purposeful manner? Do you have an example of a blog that you think does this well? I would love to hear your thoughts.
Follow me on Twitter @afreezee
... And if the purpose defining gets tough, watch this.