Wil Reynolds recently spoke on Content Ideation + Links for the Lazy Marketer at the Conductor C3 Conference; here he mentioned a brand URL misspelling strategy I had done with one of my clients. This strategy was a quick and easy way to acquire quality links as well as protect a specific brand.
In this post, I will walk you through 5 simple steps for the brand URL misspelling strategy, which is a combination of broken link building and link reclamation. This is by no means a formal process, so if you have any other suggestions or success stories, I'd love for you to share them in the comments section.
Step 1: Find out if there's an opportunity
When I first started researching my client, I dug into Google Analytics and was surprised to see 3 out of 10 of the main traffic driving terms were the brand spelled incorrectly. This wasn't just a space between words, this was adding new letters, or coming up with a new variation completely.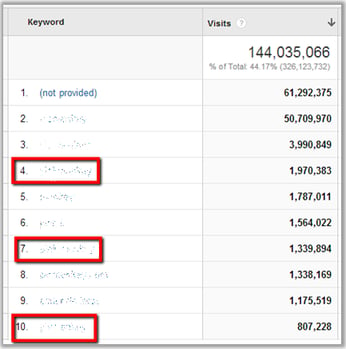 Since (not provided) is becoming more prevalent, you can also look into the search queries in Google Webmaster Tools. When I did this with my client, I got the same 3 terms in the top 10.
If you're still interested in this strategy but you don't see these kinds of results first-hand, John-Henry Scherck wrote up a great post on using other tools to help Identify Link Opportunities via Misspellings.
Step 2: Is there a website associated with these terms?
I then took one of the misspelled brand keywords and checked if there was a website for it. In this case, there was not a website, and it led me to a domain that was for sale.
Step 3: Look to see if the site has backlinks
Enter the URL into your favorite tool to get backlinks (I would suggest OpenSiteExplorer, MajesticSEO, or AHrefs), which will tell us if there are any opportunities to do link reclamation. For one of the sites, there were 28 referring domains to the broken URL; however, 41% of the anchor text was the correct brand name. This tells me that those referring domains made a typo as they were entering the URL.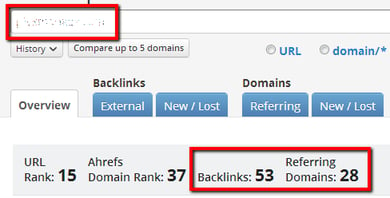 Step 4: Export the backlinks
Make sure to single out the sites that are actually meant to link to your brand.
Look at the anchor text
Review the content where the URL misspelling was linked. Is it relevant to your brand?
Is it a site that's worth reaching out to or is it spammy?
Step 5: Reach out to the prospects
Draft up a short and friendly outreach message telling the blogger or webmaster about this mix up and your solution to fix it. We used this as a template and customized each message to the appropriate site:
Thanks to Sarah Gurbach for writing the message and performing the outreach.
We had half of our prospects fix the broken links the same afternoon. People were receptive and appreciative of our message.
"I hate typos more than anything in the world."

"Thanks for pointing it out."

"I updated the link right now :)"
Takeaways
The reason this was successful for the brand was because there was an obvious opportunity. People were misspelling the brand name, which was supported by Google Analytics and Google Webmaster Tools.
Our outreach message was short, to the point, and offered a solution to a problem.
Bloggers and webmasters are proud of their sites and don't want broken or inaccurate links. If they have them pointed out, they will want to fix them quickly.
If you have any other similar strategies to share, let me know in the comments or connect with me on Twitter @allie_obrien.