Internet marketers spend countless hours in front of the computer but what browser are you using and are you using it to its fullest potential? I see too many people not using the awesome features that Chrome has to offer. So here are some tips and tricks that I use when traveling through the interwebz in the chrome browser.
Checking Rankings and unfiltered research
This tip is more directed to the clients and non SEO's that are out there. When you want to check the ranking of one of your keywords the best way to do that is in an incognito window. You can open an incognito window by selecting "New incognito window" under the wrench menu or the shortcut way CTRL+SHIFT+N. The incognito window does not carry over any cookies, settings, or personalization from your normal chrome window.
You know you are in incognito mode when you see this logo in the top corner.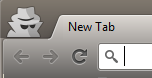 Logging in to your browser
Do you log in to your Chrome browser? You should, its great and it syncs all your extensions, bookmarks, and cookies across the different computers you use. For example, when I'm at work at SEER and I have to update a password and download a new extension it's automatically on my laptop. When I add a new bookmark to my toolbar, boom it's automatically on my home desktop computer.
Get Chrome on Android and on iOS and you can log into the browser in your phone or tablet. Once downloaded you can login to it and see all you bookmarks and under "Other Devices" you can view what is currently open on all your browsers. Here is a screen shot of my Nexus tablet.
I can easily view pages that I have open on my desktop and laptop.
You can see the tabs I have opened on my laptop Nico-Think and my work computer SEER-110729-HP.
Multiple logins
I love the Google Chrome browser and prefer to use that over all others, well there really is only one other… so I guess I should say... I like it better then Firefox. But if you're like most SEO's and internet marketers you have multiple email accounts and various different logins that are causing you to log in and out of different sites and have multiple browsers open. Well that's all over… and has been for a while. Shout out to to Ethan Lyon for showing me this tip!
In Chrome, not only can you log in to your normal Google account but you can make additional users and log in to them each with a different Google account and they don't talk to each other. So you now have different browsers that are all 100% unique AND you can log in with different accounts AND you can still go incognito AND it's still Chrome.
You can get to the multiple profiles by creating a new tab and clicking on the logged in email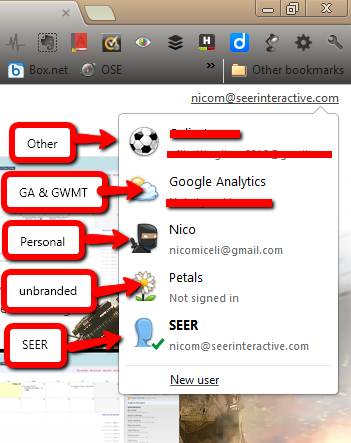 Or by clicking on the character icon in the top left corner.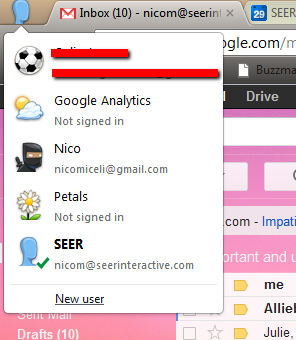 I have 5 different profiles that I use –
SEER – I have one browser that is logged into my SEER account and has all my SEO extensions, bookmark bar sites, and pages that are set to open when the browser opens.
Personal – This one is for my personal email and has normal, fun extensions.
GA & GWT – This one stays logged in to Google Analytics, Google Webmaster Tools, and Bing Webmaster Tools and has a couple plugins for analytics.
Other - I have one set up for client email addresses that I use for some outreach.
Unbranded - One not connected to a Google log in with no extensions or themes that I use to test things.
The best thing about all of this is I can keep my email open, check GA, and do outreach from a client's email all without having to open Firefox or god forbid Internet Explorer. (OH SNAP!!)
Custom Search Engines for your favorite sites
One of the big things I like about chrome is the Omnibox. The Omnibox is the address bar that you can put a URL in and search for something. But did you know you could use the Omnibox to search your favorite sites.
Start typing youtube in the browser
Then hit tab and you will see it change to search mode
Now, whatever you type will search youtube's search box saving you from going to youtube.com then typing what you want to watch in the search box. Saves a little time, but is there another site that you use a lot more then youtube? Well you can create the same shortcut for any site with a search box.
Here is how you make custom ones
Go to a site you want to create a search shortcut for
Search for something and look at the URL, notice where the search query is.
Example – the search query is "nico"
http://www.seomoz.org/pages/search_results?q=nico
https://www.seerinteractive.com/?s=nico
http://search.searchengineland.com/search?w=nico
http://searchenginewatch.com/search?q=nico
Copy that URL and replace the query with %s
Example
http://www.seomoz.org/pages/search_results?q=%s
https://www.seerinteractive.com/?s=%s
http://search.searchengineland.com/search?w=%s
http://searchenginewatch.com/search?q=%s
Go to wrench menu -> then settings -> then manage search engines
Note: Chrome will find and save a bunch of the sites you go to so if the site you want is already in your list you can just change the keyword to be shorter
Go to the bottom of the list and add the name of the search engine, the keyword (the thing you will type in the omnibox; the shorter the better!) and the URL .
Here is a couple I made
Search engine for SEERs blog

Search Engine: SEER Blog
Keyword: seer
Search Engine URL: http://www.seomoz.org/pages/search_results?q=%s
Search engine for SEERs blog


Search Engine: SEOMoz Blog
Keyword: moz
Search Engine URL: http://www.seomoz.org/pages/search_results?q=%s
Do you have any other cool features that you like to use in chrome or firefox? If so, please share them in the comments. Also follow @NicoMiceli on twitter (I tweet about SEO and other cool marketing stuff), LinkedIn, and check out about.me/nicomiceli for my other profiles.