Amazon Brand Registry Comes With Its Own Set Of Data

Amazon used to be a bit of a black box when it came to data. You could get your basic sales data, but you weren't able to see how people were using the platform.
This started to change in 2019 and has only increased into 2020. However, to access the data we'll be talking about, you need to be brand registered.
What are the requirements to become a part of the Brand Registry program?
You need to have an active registered trademark that appears on your packaging / product that you can verify yourself as the rights owner or authorized agent. Make sure you have all of the information for the trademark handy and fill out the form logging in with your existing Amazon account.
Why become brand registered? Not only will you get access to the reports below you'll also be able armed with tools that help you protect your Amazon listing from violations and suspected infringing content. Discover all the benefits of brand registry.
Leverage Brand Registry Reports for Amazon Ads
This report is what dreams are made of. Not only can you see who you're competing within the SERP for a particular keyword or ASIN, you can also see their click share and conversion share. If you've ever wondered how much money your team is leaving on the table by not being in the top spot, you can finally calculate that!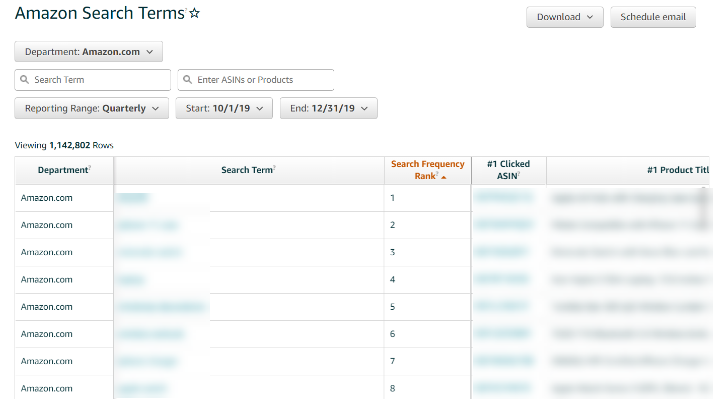 💡 Pro Tip: Here's how else we recommend using this report...
Search by keyword to find similarly related keywords. Amazon not only shows the keyword you input, but also related keywords. Use these keywords to help build out your Amazon Product Ads.
Perform a SERP gap analysis. Put a competitor ASIN in to see where they're ranking and you're not and target these keywords in ads as well as part of your SEO strategy.
Working on product research? Use this report to view your competition, estimate sales, and see market trends.
What are people adding to their cart before checkout? This report allows you to find out! Each of your ASINs are listed as well as which 3 products are most purchased when buying the original product.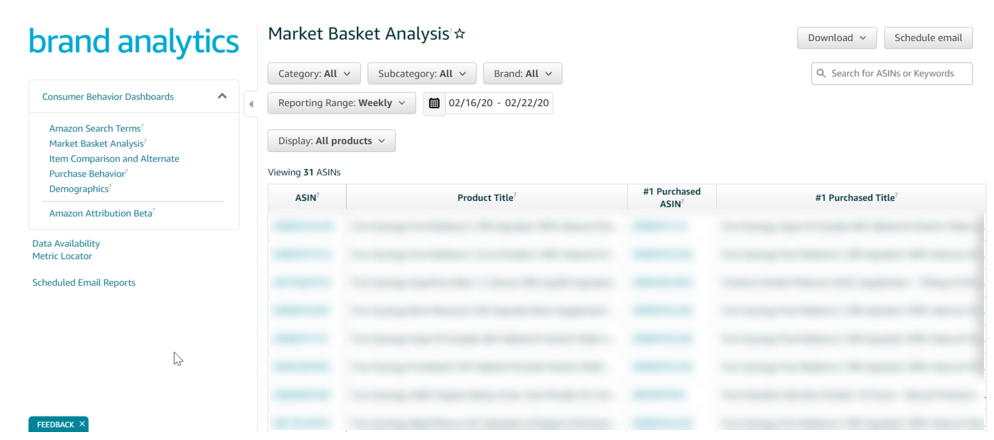 💡 Pro Tip: Top ways to use this report include...
Having trouble owning the buy box? Bundle products that are bought frequently together, create a new listing for the bundle, and own the buy box 100% of the time.

What's the buy box? It's where the customer can add to cart/ buy now. The "Sold By" shows you who is winning the buy box. Having Brand Registry does not guarantee you the buy box, the lowest price does!

Increase combination rates by cross advertising using product targeting.
Use product targeting to advertise on competitor products that are most often bought with your products. If you have a similar product to the competitor product, increase your basket share by cross-promoting that product on their page and when people search for that specific product.
So now you know what products people are buying together, but what items are they comparing and buying instead of your product? There's a report for that! See which products are most viewed frequently together and which product they customer ultimately decides to buy.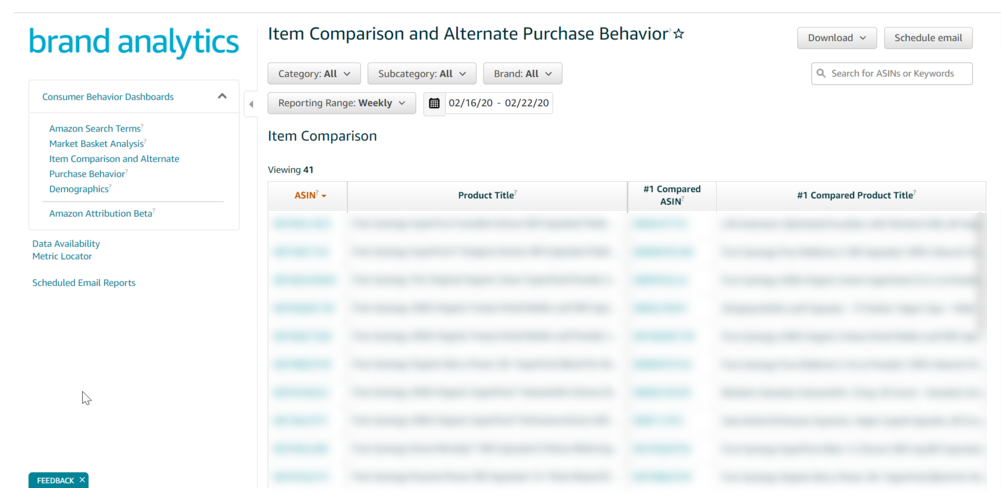 💡 Pro Tip: Take your strategy from above a step further...
Create advertising using product targeting for those products that are stealing market share from you.
Use the Brand Registry search term report to see what keywords are driving the majority of clicks and conversions for those products (enter the ASIN in the search box).
Advertising alone won't cut it here though. Customers' are already viewing your products and are still choosing your competition. Study your listing in comparison to theirs, find areas for improvement such as A+ (formerly Enhanced Brand Content) content, better pricing, better title/ descriptions etc; your Amazon product page should be ever-evolving.

What's A+ content? It is rich content in lieu of your text-only product description. You can add in images, comparison charts, text boxes, and more. Plus, you can now A/B test your A+ content! Use Amazon's A/B test to find out what works for your page.

Are you showing up for the wrong keywords? Perhaps customers are choosing a separate product or comparison shopping with products that are not related to your product whatsoever. Double-check your advertising search term reports to make sure your advertising is showing up in the right place. If your advertising looks good, use the Brand Registry search term report to view what SEO keywords you're ranking for. If those keywords don't line up with your product, you need to work on your front end and back end keywords.
Age, household income, education, gender, and marital status are available for your account overall, category, subcategory, ASIN, or keyword! Understand your customers down to the product and keyword level.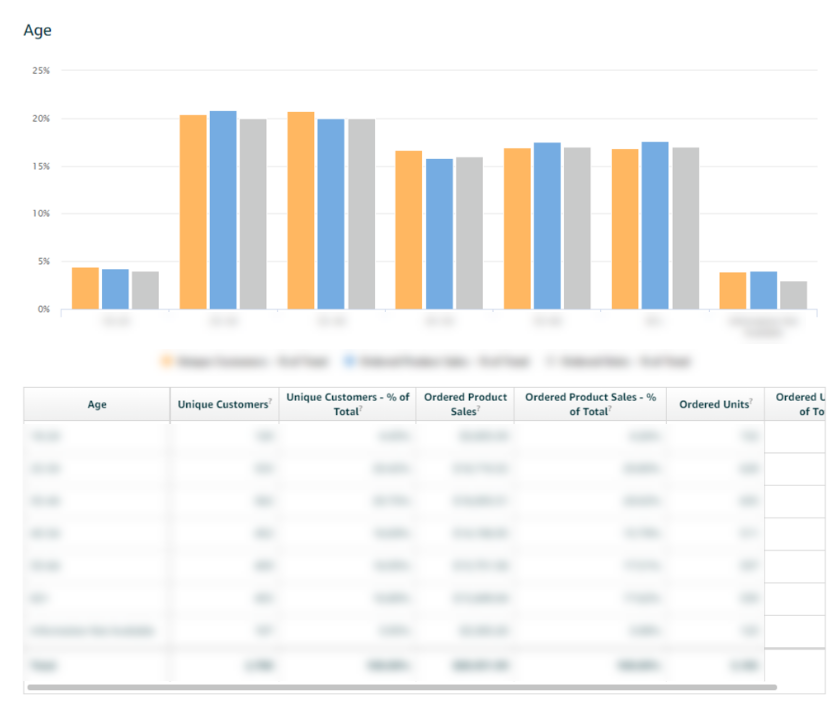 Does a certain demographic convert better for particular products? Use this report to find out and then speak to that audience on your product page.
Compare this data to your Google Ads / Analytics / market research data. If one demographic is doing better on Amazon than on your site, perhaps you may find yourself writing copy for that audience differently on each platform or you create different personas for each channel. That's up to you and your marketing team, but the opportunities are endless.
Stop Guessing When It Comes To Your Amazon Strategy
Our motto at Seer is Stop Guessing. So stop guessing when it comes to Amazon by leveraging the data that is now available to you. Interested in leveraging data for your Amazon advertising strategy? Reach out and see how we can help manage your Amazon ads!
Sign up for our newsletter for more posts like this - delivered straight to your inbox!