Advertising Amidst COVID-19
It's pretty safe to say that 'business as usual' is essentially out the door right now. Digital marketers everywhere are re-evaluating their current marketing plans and content calendars, or shutting down campaigns to rewrite new ad copy. And we get it - 'Best Practices for Advertising During a Global Pandemic' shouldn't be in anyone's bookmarks, but, unfortunately, it's something we're all needing to address.
In this blog, we'll share some tips on pivoting your paid social strategies during these unprecedented times. And I promise, that's the last time I'll use the phrase 'unprecedented times', because I think we're all collectively aware of how 'unprecedented' these times are right now.
Tip #1: Evaluate Your Current Ad Creative
The last thing you want right now is an ad with your brand's name on it that's promoting something unintentionally insensitive. Export all your ad copy and imagery and give it a thorough review.
If you have ad copy suggesting people come visit your store in person or imagery of groups of people outdoors, the first thing you should do is pause or update those ads. AKA, don't be this advertiser: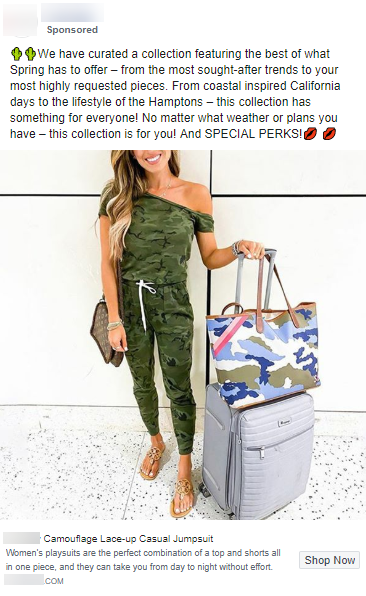 As much as I love a good emoji in ad copy, considering most people aren't traveling or taking vacations to California or the Hamptons right now, this feels a little "🙄😬", wouldn't you say?
Don't get called out in the comments by people who could have been potential customers in the future (or be used as a 'what not to do' example in a blog 💁‍♀️).
Tip #2: Change Your (Messaging) Tone
If you haven't yet, now's is really the time to empathize with the millions of people you've been advertising to and start speaking their language.
Updating your messaging to be more personal to your audience will help you stand out in your social ads. Softening your tone or taking an empathetic approach can appeal to your audience and separate you from being just any old ad on someone's timeline. Let's take a look at an example: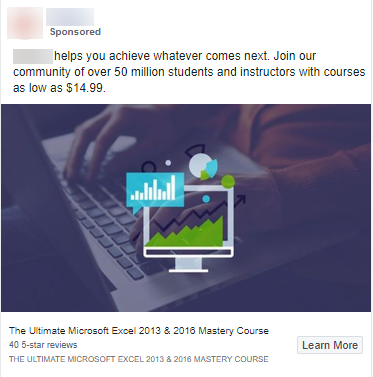 Why is this a great example? Let's break it down:
The tone is empathetic, using "whatever comes next", indicating they understand that times are unpredictable at the moment.
The Call to Action isn't pushy or forceful. They aren't saying 'Sign Up Today', but rather 'Learn More'.
The message is personable. They are here to help YOU specifically.
Here's another great example of shifting strategy: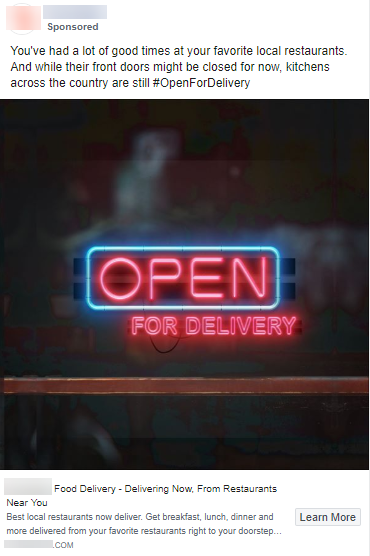 This ad tugs at the user's heartstrings to promote the restaurants using this delivery service, reminding YOU to be empathetic for what's going on in the world, outside of your own life.
Similar to the above ad, the Call to Action is non-invasive. They aren't saying 'Order Delivery Now', but rather 'Learn More - We're Here if You Need Us''.
Tip #3: Promote New Content
Depending on the industry, you may need to consider a shift in what kind of content you're promoting on social media.
Here are a couple examples:
Let's say you're an HR company focused on finding new businesses to switch to your software.
For your higher-funnel audiences, you may typically offer things like whitepapers, e-books, and other resources that prospective business owners can download for free to familiarize themselves with your company.
However, as soon as COVID shifted the entire work environment, the content you were promoting became less of a priority for your audience's new needs.
Business owners have a ton of questions from learning how to manage remote employees, to understanding government relief and navigating legislation.
If you can shift your mindset from 'we want to find new business owners to use our products' to 'how can we help small business owners' you will not only resonate better with your audience during this time, but it can help grow your future audiences as well (see Tip #4!).
Now let's say you're in the home improvement space, providing contractors and builders to assist in your customer's home projects.
With stay-at-home orders, it's difficult to find customers who are willing (or able) to allow contractors into their home to complete these projects.
So in this instance, you can't promote your services (at least not without ruffling some feathers).
Instead, can you provide these customers with higher-level content, such as a checklist to complete before they begin their project, or an online lookbook to inspire ideas?
By offering this kind of content, you're showing your potential customers that you've shifted your mindset to be on their level and can help them prepare for when the time does come to use your service.
We know that not everyone can drastically change their content as significantly as the examples above, but the point here is that it isn't 'business as usual' anymore.
If you can't offer your current content or product right now, what can you promote to keep your audience engaged, and more importantly, retain them for when this is all over?
Tip #4: Grow Your Top of Funnel Audiences
Let's revisit one of our examples from the previous tip - the home improvement company.
Shifting from low-funnel conversions (hiring contractors to complete large home renovation projects) to high-funnel content (checklists and lookbooks), shouldn't be done without a larger intent. This company will be able to use this strategy for their advantage later on.
They are still targeting their preferred audience - homeowners within a certain income bracket. That part hasn't changed.
They are just helping their audience in a different way right now.
Fast forward to a post-COVID economy, and they now have a new pool of people to remarket to in future campaigns - however again, not without intent...
If someone found this company's content useful during COVID-19 and completed one of these high-funnel conversion actions (view content, download lookbook, etc), but didn't ultimately become a customer yet, that same person could see an ad for this company in the future, recognize the brand, and be more inclined to become a customer when the timing is right.
Unless you are in the e-commerce industry or another type of industry that's performing well during this time, optimizing your campaigns for low-funnel conversions may not be your best move.
If you can, try testing more traffic, reach, or brand awareness efforts to drive impressions or site traffic so you can re-engage those audiences in future remarketing campaigns when the time is right. Fueling your top-of-funnel audiences now can benefit your campaigns in the future.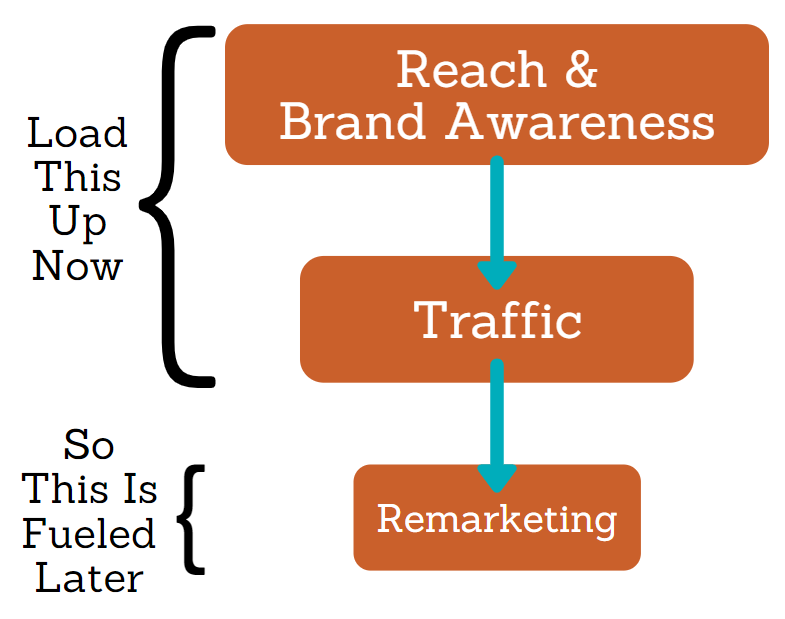 Tip #5: Test New Conversion Actions
Similar to Tip #3, if you can't promote your current content or product, you need to shift to something that represents your brand but is still relevant for your audience's current needs.
If you can't promote whitepaper downloads because your whitepaper content isn't relevant right now, can you optimize for Newsletter Signups?
If you can't promote your products because you're only brick-and-mortar, do you have a video you can optimize for views?
Maybe consider adding broad conversion events on your site such as button clicks or content views, and start optimizing your ads against expanded conversion data. Switching up your campaigns and optimizing for new conversion actions can help you expand your audiences, load up your top-of-funnel marketing lists, and may open up some new opportunities you hadn't considered before.
Now It's Your Turn.
If you're running any paid social ads, take the first step and do a thorough review of your current creative. Then if you can test any of these tips into your current campaign strategies, let us know how they turn out!
If you need additional information on digital marketing during COVID-19, check out our Resource Hub to answer your most pressing business questions as it relates to the business impact of COVID-19.
Sign up for our newsletter for more posts like this - delivered straight to your inbox!