B2B brands may feel that the content topics they cover are not "flashy, exciting, or sexy" enough to be covered by publications compared to the content produced by B2C companies. However, this doesn't have to be true.
By using a story idea that will build connections for your brand long-term and combining it with the age-old strategy of news-jacking, B2B marketers can create shareable content that journalists will seek to cover and customers will want to read.
I have a real, successful business case to prove it - along with key lessons to keep in mind when building shareable content for your own B2B brand.
How a B2B company raised brand awareness through shareable content
A couple months ago Niagara Spring Water recalled water bottles that were distributed from two of their plants because there was a possible E. coli outbreak.
The recall had the potential to affect 14 chain grocery stores in Pennsylvania. The story spread far and wide within just hours of Niagara announcing the recall.
Seer has a client in the water cooler space, WaterLogic, whose mission is to deliver the cleanest water possible to homes and offices while helping people eliminate the waste of plastic water bottles. The brand wanted to help customers on any opportunity this story presented.
Our team quickly researched the details of the recall and discovered Niagara had released the exact codes of the potentially infected water bottles. This was great but the codes were not easy to quickly scan - check out the example image below. What's more, the story was being covered by local ABC and CNBC sites but no one was talking about the codes.
With the help of our in-house design team, we jumped on the chance to improve the layout of the codes and share it with the news sites already covering the story. Our goal was to create a resource to help grocery store managers, panicking mothers, and school administrators quickly identify any potential risk they were facing.
After creating the graphic you see above, our next step was to reach out to all of the sites and news hubs covering the recall and recommend adding this graphic to their stories to further educate readers.
We had an astonishing 20% success rate in our outreach resulting in 8 brand mentions in online publications and a spot in Google News. Among the sites that used the graphic were two large news sources. The graphic also resulted in the following sessions to the website:

Driving sessions is key; however, the main goal of "newsjacking" this story was to build brand awareness & develop potential new relationships for a B2B company that isn't typically mentioned in the media. By creating this content, publications with hundreds of readers associated the topic of helping people drink clean and safe water with WaterLogic. In turn, consumers shared the news.
How can other B2B brands create shareable content that will support their brand mission?
Make a natural connection
How could anyone forget #thedress phenomenon that stirred up the Internet back in February 2015? Tons of brands jumped on the bandwagon to get a piece of the action but Behr Paint actually took the opportunity to promote a relevant product of theirs and offer a unique element to the overly saturated conversation.
While brands like Duracell and Waffle House phoned it in with a weak link from the dress to their brand colors, Behr used their Color Match app to match the colors of the dress to Behr paint swatches. Behr should be an expert on color and this connection to the "viral trend" made sense and promoted their business in a relevant, helpful way. Plus if you really wanted to paint your room the color of #thedress, now you can.
Add unique value
What new or interesting tidbit does your content bring to the table? With Halloween just passing, Google turned their Trends tool into a Halloween costume trend tracker called Frightgeist. The tool uses data based on real time Google searches from around the world. This content is valuable because it gives journalists an easily accessible way to pull data into their story. Google is sitting on this data and it's already public, but by rebranding the tool for a seasonal trend, they are able to make the data more relevant and targeted towards a specific audience.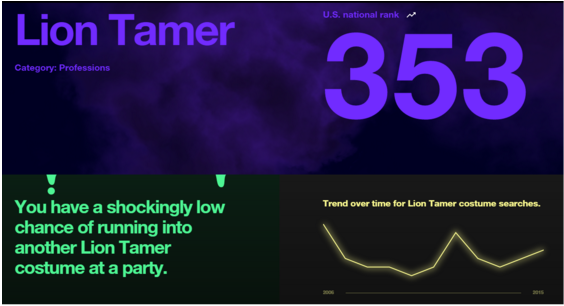 Does your B2B brand mine any sort of data? In today's world, the answer is most likely yes. Think creatively. Could you use any of your company's data to create interesting and relevant content for consumers? A great example of this is Simple bank's successful map of which states tip the most, which was created using the bank's existing app data.
Be speedy & keep up with the news
It's crucial to focus on customers and your brands' positioning when taking a newsjacking approach on a recent trend; how will the story or content you pitch actually build upon your brand long term? Will it highlight your brand in a manner that aligns with your mission statement? If not, the newsjacking approach is not the best option for your business at this time.
The key to newsjacking successfully is striking while the iron is hot. When a story is breaking, journalists are scrambling to organize their notes and put together valuable coverage. This is the time when journalists are most likely to welcome your outreach, as long as it's relevant and helpful to their assignment.
Check out David Meerman's Scott graphic on the wave of a breaking news story. The best time to jump on a story is before the wider public is aware it's even happening.
To help you stay on top of your newsjacking game, use the the tools below to monitor emerging stories and anticipate trends in your industry.
Monitor TV events
Popular TV shows often drive online conversation and trending topics. Use Metacritic's calendar of upcoming TV Show Season Premieres to predict what people will be talking about online during that time. This is a great way to anticipate huge TV events, like the Grammys, as well.
Here's a great example from MarketWatch. They used the popularity of AMC's Walking Dead as a framework for an article about management. This turned a fairly standard topic into something that would attract a slightly wider audience.
Set up news alerts
To make the newsjacking process easier on yourself, monitor topics and keywords that are related to your industry. Use tools like Google Alerts, Mention, or TalkWalker which essentially all do the same thing. You set up an alert for anytime a certain topic or keyword is mentioned online and you'll get an email about it at a cadence you choose. This is a great way to be on top of a breaking story in your industry before everyone already knows about it.
Learn New Holidays
Content that is connected to a holiday can be a great way to reach a wider audience. Day of the Year is an online calendar like no other. With it you can see all the random holidays that fall on each day, past and present; which could be a fun way to spice up your social content.
Answer Journalists' Questions
Journalists are constantly working on new articles and usually need a quote or opinion from an industry expert to round off their story. There are free tools online like HARO and Profnet that allow you to sign up for alerts when journalists are looking for quotes or input from people in specific industries. You won't always get lucky but it's worth checking these tools out on a regular basis. Lauren Grabowski explains more benefits of these online PR tools in a recent Seer post.
By helping journalists write their stories, you can get your foot in the door and begin building relationships with media sources. In the long-run, this will make it easier to pitch evergreen, branded content pieces to publications in the future.
Remember: it's all about adding value for readers, not about "going viral"
When a story hits or a trend is peeking its head over the horizon, it's one thing to jump on the bandwagon to get exposure for your brand. But it's the brands that contribute value and enhance the narrative that make the most waves and actually see the most benefit.
If you've had success with a newsjacking tactic that added value for customers please share your tips or examples below!