There are two paths to gaining links (diagrammed below). It's very tempting go the non-RCS route; it's quicker, requires only peripheral knowledge of the client's business, and most of all, there's assurance your efforts will yield a few links.
RCS is uncertain, and the input costs are high. After researching the client's business, and probing the associations, publications, and networks inhabited by industry communities, an SEO is left with the daunting task of creating a link opportunity on a website outside the SEO-industrial complex.
The threat of coming up empty, at the expense of so much overhead, can stifle an SEO from even beginning the timeconsuming, resource-intensive process we call RCS. But you can be assured it's worth the effort. There are multitudes of ways to create value for a community important to growing your client's business, and I will demonstrate three ways to do so on a single site in the following example.
The Client:
A transportation logistics company that does business across the country.
The Target:
Georgia Logistics is a transportation logistics organization with a high domain authority. Their 'About Me' says "The Center directly helps companies overcome challenges and capitalize on opportunities related to the movement of freight."
Sponsorships
So I'm thinking, how can I add value? A sponsorship is a good place to begin negotiations, but a low-budget client can rarely afford a link on sponsorship alone. The site has a PA 54 DA 46, so I think a link on a subpage with a PA in the 30s or 40s is worth $250 on metric merit alone.
Link valuation considers SEO value, as well as brand placement, potential referral traffic, and the potential beginnings of an industry partnership. For example, this year your client sponsors an industry conference, and next year the conference reaches out to last year's sponsors looking for speakers.
$250 won't cut it in this crowd, but the fact that prominent companies are willing to stake their reputations here causes the brand value to rise.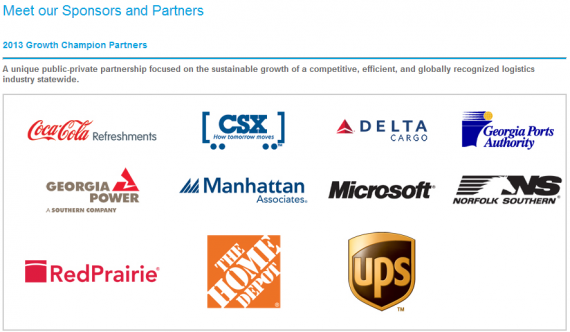 So I check-down for smaller ways my client can contribute. If the community is holding an event, look to sponsor a meal, parking, anything they need. If it's an organization sponsor the 'Member of the Month'. No 'Member of the Month Award'? Suggest they invent one and volunteer to become its first sponsor.
Often, even if you can get the editor thinking "Yeh, it's not a ton, but why should I turn down their money?", which is what you want, a proposed $200 sponsorship of the event's breakfast hashbrowns still won't appease. So you'll need to cobble together a deal by contributing non-monetary sources of value to sweeten the pot.
Contributing Content
What else can you offer them? Knowledge. Find your bloggers opportunities to demonstrate their expertise in guest posts, webinars, and podcasts, and you'll build up their reputations in the vertical's community, while picking up the link.
To prepare your client to capitalize on a media contribution opportunity, ask them from the campaign's kick-off about volunteering their time for guest post interviews, webinars, podcasts, etc. If your client's experts don't have time available, study industry blogs and recruit a freelancer to write on behalf of your client.
I see three past webinars that match-up with my bloggers' expertise.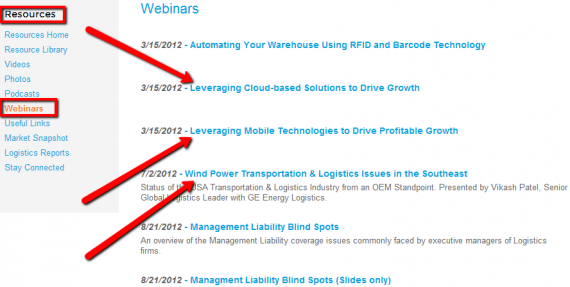 Pitch the writer first, pitch their expertise, and link at the top of your message to articles and video clips that encompass the organization's themes. A great topic cannot buoy a lackluster blogger in the administrator's eyes, but a writer with great social proof can cause a site administrator to let a borderline topic slide.
I've pitched an expert on cloud-based trucking telematics to participate in a webinar, and the organization is interested. This will gain my client exposure in industry circles as a thought leader, but we still don't have a deal. The site administrator explains it isn't fair to their other partners to accept my client, when their other partners give much more money. All right then, let's find more ways to add value.
Contributing Linkable Assets
My next step is to look for opportunities to contribute a linkable asset. You never know when an evergreen infographic or blog post you've already created may serve well as a bargaining chip.
Under the "Tools" option in the nav bar, I see across a "Logistics Tools" section listed In this case, they're already hosting a "Logistics Industry Mapping Tool" featuring data on "freight flow of truck and rail volumes, infrastructure assets …". If you've already creating a similar tool, pitch it.
No suitable content on hand? Grab a publicly available dataset and throw it into Google Fusion Tables to tailor a linkable asset of value to open data websites like data.gov and opengovernmentdata.org are great starting points for finding this information.
If this isn't a good fit for you, look for other places they are linking out. This site has a News & Events page which appears to be linking out to stories from publications in my client's industry, like Materials, Handling & Logistics News. If the site will only link to news about their organization, it may be worth tailoring a blog post with the target site in mind. For example, writing a post on the "Top Logistics Conferences of 2013" allows you to publicize potential industry partners before you ever receive anything in return. That leaves a strong impression. Supplement the strategy by awarding badges, which sites will often publish in their News & Events section.
Hopefully offering these additional sources of value will help you seal the deal. If you still can't seal an official partnership, a good exit strategy is to uphold your offer of one of these resources on individual merit. You may be able to get a link even without the sponsor investment.
The moral of the story is to cast a wider net by focusing first on real business impact, which can't be dictated by whether the opportunity is a guest post, sponsorship, etc., supported by an arsenal of tools you can use to create an opportunity from (mostly) scratch. True link valuation occurs at the cross-section of SEO value, brand placement, referral traffic, and the ascent of a new industry partnership.
Follow me on Twitter if you like!