3 SEO Tactics for Ranking for Your Most Competitive Keyword
Every company has a set of highly competitive search terms that they are trying to rank for. Unfortunately, not everyone can rank on the first page. We have a few tactics to help you move closer to the first page or even move higher onto the first page of results. (Note: the following tactics are not guaranteed to get you better rankings, but we have seen success with them before.)
Tactics 1: Building Contextual Relevance
For those of you that don't know what the term "contextual relevance" means, here is my best explanation:
I own a doughnut shop. My website is about my doughnuts and a few other pastries that I sell in my store and online for delivery.
I love shoes and want to share my knowledge with people, so I write a blog post or create a new page about shoes that lives on my doughnut website.
Since nothing else on my website has anything to do with shoes, I should not expect to rank well for anything related to shoes because when a search engine crawls my site they see 99% doughnuts and only 1% shoes. I'm probably not the best resource for shoes.
If you are trying to rank for highly competitive terms but only have 1-2 pages on your site discussing these terms and why they matter to your business, it is going to be tough to break onto page 1. We recommend creating supplemental content in the form of educational content or blogs (or any format that fits your site and your brand) that also discusses this term (and other related terms) to build contextual relevance. Start creating content that helps with the long tail search terms that are tied to your head term. By doing this you are signaling to Google and other search engines that you know about this term, it is relevant and important to your business, and you can help searchers on their journey.
Tactic 2: Internal Linking
Once you have built out your content hub and contextual relevance, you should link from your supporting content to the page that you are trying to get to rank for the competitive term. It's not enough just to add a link; so make sure that your anchor text contains your target search term (or even a variant of your target search term). It's important to remember not to be spammy and overlink. You should typically only link from one page to another 1 or 2 times (per page).
Interested in learning more about internal linking? Check out these internal linking blog posts:
Tactic 3: Competitor Research
This one may seem a little too obvious, and that's OK. However, when you are doing your competitive research, don't look to see how your business competitors are writing about the topic, see what is ranking well for the search term (or group of search terms) and use that as your starting point. When you search for your target term, pay attention to the intent. If you are trying to sell a product and see that sites like Wikipedia or Quora are ranking on the first page, that is a pretty solid indicator that when people search for that term they are trying to learn more and not buy a product/service - so you may need to adjust your strategy. For example, in the image below there are 6 indicators that when someone searches for "SEO" that they are trying to either learn what SEO is or get started learning how to be an SEO practitioner. If your page is dedicated to educating searchers on the fact that you offer SEO services and you're trying to "sell them," then you probably shouldn't focus on this query since the likelihood of your page ranking is low due to the intent of the search.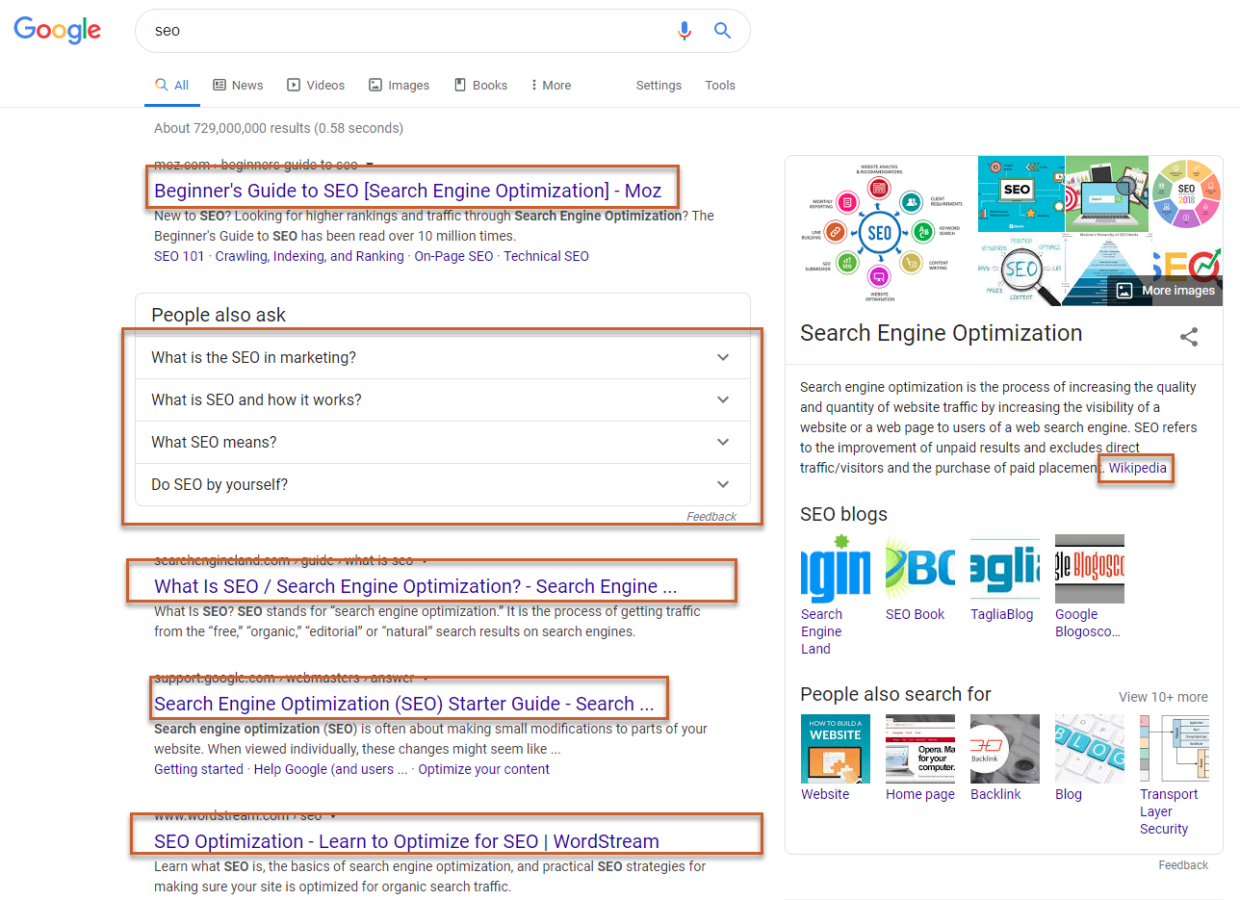 Looking for More SEO Tips?
Since these certainly are not the only tactics used to improve keyword rankings and organic performance, I suggest signing up for the Seer newsletter and subscribing to our channel on YouTube for more tips and insights.
Sign up for our newsletter for more posts like this - delivered straight to your inbox!