Optimizing Your Brand's GIPHY Channel
As digital marketers, we know that the search landscape is always changing. From webpage copy to images to videos, Google is always trying to rank content that it deems relevant to satisfying a user's query.
While GIFS (Graphics Interchange Format) aren't a new phenomenon, we've seen their use skyrocket across social media feeds and Slack channels in recent years. Marketing teams have started to take notice and prioritize creating their own GIFs to build awareness for their brand through fun, ~5 second videos.
Looking to Grow Visibility for Your GIFs on GIPHY?
We recommend following these simple steps to optimize your GIPHY channel for search:
Use descriptive keywords as your tags
Feature at Least 10 tags per GIF
Analyze competitor tags for similar GIFs
Leverage branded search data
Get creative!
Ready to optimize? Let's get started!
Find Relevant and Descriptive Tags
Similar to image optimizations for SEO, we always want to be sure we're using the most descriptive and relevant terms possible to describe a visual. Just like how Google can't read images without alt text, GIPHY relies on tags to understand the context of the GIF. According to GIPHY, it's recommended to include the brand name, primary nouns, and the action taking place in the image.
Therefore, we recommend using a similar approach to SEO keyword research to identify keywords that are:
Relevant to the GIF
Frequently searched (Use MSV as a proxy for search demand)
Descriptive of the visual
Not stuffed or used unnaturally
Utilize the Search Real Estate with at Least 10 Tags
In SEO, we know that it's important to use all of the (limited) real estate that Google gives us in the SERPs to encourage clicks to our client's website by optimizing page metadata. Optimizing for GIPHY is no exception, and we want to use all of the opportunities we can to give the GIF search engine context into the GIF visual.
According to GIPHY, they recommend coming up with at least 10 solid tags for each GIF. As with Organic Search optimizations, we would want to lean into quality over quantity, with relevance as our primary focus. The platform recommends using less than 20 tags to prioritize relevance over creating a spammy user experience.
Analyze the Competitor Landscape
Need ideas for tags? We recommend checking out the tags that similar themed GIFs are using to rank for relevant queries.
For Example, this GIF is optimized for the tag #thumbs up.
In order to find additional tag ideas, search for "thumbs up" on GIPHY to find other similar GIFs, such as this example: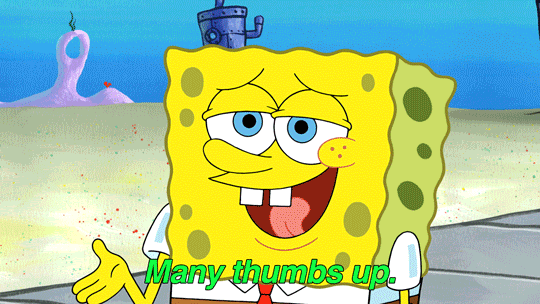 After analyzing this GIF, we see that it has tags like "Thumbs" and "Agree" which we could also add to our tag recommendations.
Leverage Your Popular Branded Keywords
We recommend looking into your most popular branded keywords to identify tags relevant to your company. For example, if your brand sells a popular product that has a decent amount of monthly searches on Google, we recommend incorporating these terms into your GIF optimization strategy.
This is also a great opportunity to add in keywords related to ad campaigns, slogans, and brand culture. Social media and GIFs can be a great opportunity to build community between a brand and users, capitalizing on inside jokes and common interests to build loyalty.
Let Your Creativity Flow
GIFs are meant to be fun, so you might as well think outside the box when it comes to creating tags.
Similar to our audience-first approach to SEO, we always like to put ourselves in the shoes of our users. In this instance, GIPHY users are most likely looking for a reaction, vibe, or a good chuckle from a GIF. Therefore, we recommend describing the GIF in the same way that you might react to it or how you think the subject in the GIF is reacting. Some personal favorites are #whatever #dance #omg and #clapping.
Check out Seer's Holistic Approach to Search Strategy
Sign-up for Seer's newsletter to stay up to date on our approach to the latest search strategies. Let us know if you try out any of these tips and tricks by contacting us below!